Follow us on Twitter, Facebook and YouTube!
Parent and Teacher Corner - Start here to get information and to get connected with LPA's parent and peers network.
Gary Parker Photography

Welcome
 
Welcome to the on-line home of Little People of America.

Little People of America (LPA) is a nonprofit organization that provides support and information to people of short stature and their families.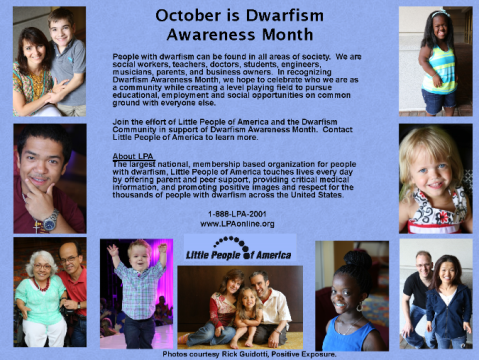 Download the 2013 poster pdf here.

LPA is only able to continue our work with support from members, friends and family.  Please consider making a donation to our annual $50 for 50 More Years Fundraising Campaign.

Download a Dwarfism Awareness Facts Sheet here!

**NEW Embossed LPA Dwarfism Awareness Bracelets Available!**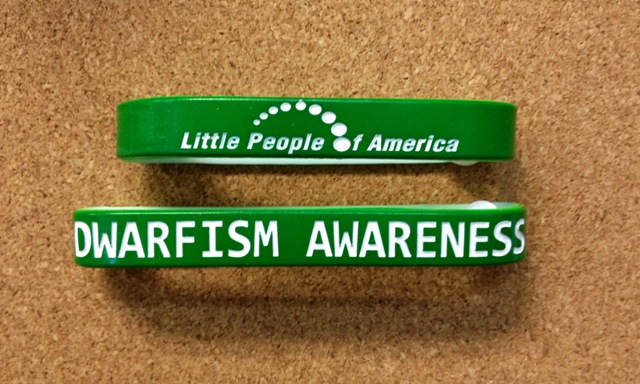 Bracelets are $3.00 each or 4 for $10.00 (which includes shipping).  Please specify child or adult size. Order by calling the office at 1-888-LPA-2001, by mail with check, or through making a donation online - be sure to note Dwarfism Awareness Bracelets and your selected size on the form.   You may also be able to purchase bracelets directly from your local chapter and district.  For bulk orders of 30 or more, please contact the office via email info@lpaonline.org.

LPA PSA 
Watch our 15-second video celebrates the diversity of people with dwarfism in the United States. 

LPA Dwarfism Information Cards
Have you ever been somewhere and wished you had a simple card to hand to someone who was maybe just a little bit too curious about you or your child?  
LPA now has Dwarfism Information Cards for you to use in just that situation.
The cards have general information about dwarfism and the LPA office contact information.  The cards are business-card sized.
There are two card options - one can be used by an adult lp, the other can be used by a parent.  
Cards are sold in packs of 10 for $5.00.  You may pay by cash, check or online through the orange DONATE button on the LPA Homepage.  Choose "LPA Dwarfism Information Cards" on the dropdown "Reason/Program for Donation" menu. Click here for examples.

Starting Points
Starting Points There are many local resources for people with disabilities and their families that LPA members may find helpful to contact when needing assistance to access healthcare, education, employment, and assistive technology. Download this helpful document.


Find us on Facebook.  Log on and search "Little People of America".  Our page has the green LPA logo.

 Follow us on Twitter  @LPANational.

Check out our YouTube channel:  www.youtube.com/littlepeopleofamer.
Learn, explore, connect!


© 2008-2013 Little People of America.  All material on this website is copyrighted.
All Rights Reserved.

Little People of America is a primarily all-volunteer organization for persons and families involved with the condition of dwarfism. We do not diagnose, treat, or provide genetic counseling. We are involved in peer and parent support, medical resources and referrals, scholarships, and programs that benefit the dwarfism community, while promoting education, community outreach, personal and family strength, and life achievements.
| | | | |
| --- | --- | --- | --- |
| | | | |